Junk King isn't your typical junk removal company — we're on a mission to make a difference in the communities we serve. Here's why choosing a franchise like Junk King is not just a smart business move, but also a rewarding one.
Junk King's commitment to sustainability goes far beyond our core business model. Every Earth Day, we visit local schools to educate kids about the importance of caring for the environment, and bring along a specially themed truck to make the learning experience both educational and exciting for students.
Our work doesn't stop there. We know that strong communities thrive on togetherness, and events like "Dump Truck"and "Lovestruck," are a few ways that we extend our commitment to community through collaboration with local businesses. The Dump Truck campaign gives local residents the chance to toss out their ex's stuff into our parked truck, while Lovestruck participants are invited to show the world their love story by sharing a photo of themselves and what they love about their partner using the hashtag #JKLovestruck.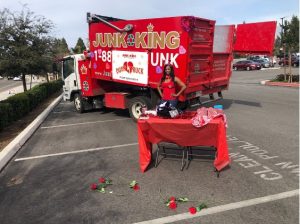 During the holiday season, Junk King helps bring smiles to the less fortunate children through our HAULidays Toy Drive. The event invites the local community to donate new, unwrapped toys to support your local Boys & Girls Club of America. Then, they're encouraged to share their goodwill by tagging their local Junk King and using the hashtag #JKHAULidays.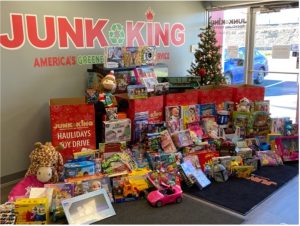 Our upcoming "Haul-o-ween" initiative gives community members the opportunity to dress up, trick or treat out of a Junk King truck, and do something good for the planet at the same time. We collect "spooky junk" like old Halloween decorations and cobweb-covered furniture, giving these items a second chance to shine.
Speaking of giving items a second chance, Junk King Toledo makes a positive impact on their community by hosting regular garage sales to benefit local charities and other organizations. This summer, husband-and-wife owners Brad and Jessica Menard partnered with The University of Toledo Retirees Association and held a garage sale where all proceeds were donated to the University's 'Rocket to Rocket' fund, which provides emergency assistance to students in need.
Franchising with a brand like Junk King opens up a world of possibilities. And, let's not forget about the satisfaction that comes from giving back—for many franchisees, actively engaging in the community adds a deeper sense of purpose to their business.
Junk King doesn't just clear spaces, we clear the way for stronger, more connected communities, one junk pile at a time. If you're looking for a brand with a commitment to making the world a better place, consider franchising with Junk King!