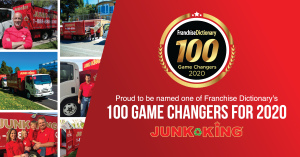 BURLINGAME, Calif. – Junk King was named to Franchise Dictionary Magazine's annual list of the "Top 100 Game Changers" in 2020. This prestigious recognition celebrates the brands continued emphasis on green junk removal as well as the support it provides its franchisees through its national call center, proprietary software system and advanced review and referral platform.
"Every single member of the Junk King team stepped up this year – whether it was our franchisees who kept on finding new ways to giveback to their local communities or our corporate team's dedication to helping our franchisee implement rigorous and extensive safety procedures," said Michael Andreacchi, CEO of Junk King. "I'm proud of the collaborative and innovative culture we've created which has led to the resiliency of Junk King as a business opportunity."
Franchise Dictionary Magazine is a national digital publication with informative and educational articles aimed at prospective franchisees. After reviewing hundreds of entries, Franchise Dictionary Magazine's editorial team, deliberated on what nominees changed the game based on the following criteria: impact on veterans, millennials' choice, making an impact, serving their community, creating an opportunity for aspiring entrepreneurs and filling a niche in the industry.
"Franchise ownership allows people to follow their dreams of being their own boss and taking control of their futures," said Alesia Visconti, CEO and Publisher of Franchise Dictionary Magazine. "It supports people working for themselves but not by themselves. It's a community of professionals all supporting successful business ownership. A brand that earns the Top 100 Game Changers designation raises the bar and clearly sets itself apart!"
Junk King, the nation's top-rated junk removal and hauling company, is known for its professionalism emulated through its eco-friendly recycling, award-winning customer service, state-of-the-art technology systems and the clear indication it places on customer satisfaction. As the brand grows, it continues its efforts in making the world a better place for generations to come.
To view the entire "Top 100 Game Changers" list for 2020, visit https://franchisedictionarymagazine.com/2020-game-changers/. Results can also be seen in the December 2020 issue of Franchise Dictionary Magazine.
Individuals interested in franchising with Junk King can learn more about the franchise opportunity by visiting https://franchising.junk-king.com/.
About Junk King
Junk King is a white collar business management franchise in a blue collar industry with company operations showing more than ten years of sustainable growth. The company is firmly entrenched as the second largest and fastest growing player in the still young junk removal industry. Junk King launched its franchise in October 2009 and has awarded more than 100 new franchises, including two Master licenses in Canada. Junk King has a flexible, easy to scale model with a quick start-up and few fixed costs. The company has also expanded into the dumpster sector, offering additional services and revenue streams to franchisees. To learn more about Junk King, please visit https://www.junk-king.com.
Back