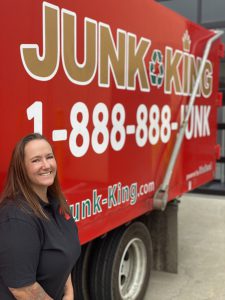 BURLINGAME, Calif. – Junk King, the nation's top-rated junk removal and hauling company, announced today the promotion of Crissy Russo, previously Senior Director of Marketing, to the Vice President of Marketing.
"Throughout my time with Junk King, I've seen the company grow and flourish, even amidst the pandemic. From the start, it's been my goal to expand the brand's visibility nationwide and implement new innovations to improve the customer and franchisee experience," said Russo. "As I take on this new role, I'm eager to continue supporting our franchise system and pursue even more growth opportunities for the brand."
Since joining Junk King's corporate team in November of 2019, Russo has been instrumental in the brand's growth. She also played a vital role in helping the brand navigate the pandemic as it was deemed an essential business. In the last year, Crissy assisted in bringing unit growth to over 125 locations in communities across the United States and Canada, a testament to Junk King's resilience. Crissy also initiated the launch of the online pricing estimator, an innovative technology that enables customers to know a more accurate cost estimate, providing a level of transparency that sets Junk King apart from its competitors.
"Crissy joined the Junk King team more than a year ago, after establishing herself as a successful marketer throughout the Bay Area. Her tenured marketing experience within other industries made her a stand out from the start," said Michael Andreacchi, CEO and co-founder of Junk King. "Crissy's expertise and leadership have positioned her well for the promotion, and we know she will carry on doing great things for Junk King in this new role."
Junk King, the nation's top-rated junk removal and hauling company, is known for its professionalism emulated through its eco-friendly recycling, unparalleled customer service, state-of-the-art technology systems and the clear indication it places on customer satisfaction. As the brand grows, it continues its efforts in making the world a better place for generations to come.
About Junk King
Junk King is a white collar business management franchise in a blue collar industry with company operations showing more than 15 years of sustainable growth. The company is firmly entrenched as the second largest and fastest growing player in the junk removal industry. Junk King launched its franchise in October 2009 and has awarded more than 100 new franchises, including two Master licenses in Canada. Junk King has a flexible, easy to scale model with a quick start-up and few fixed costs. The company has also expanded into the dumpster sector, offering additional services and revenue streams to franchisees.
To learn more about Junk King, please visit https://www.junk-king.com.
Back