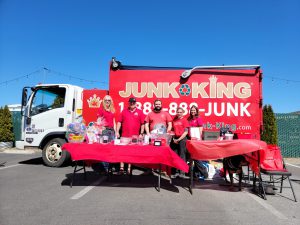 By Ryan Matthey | Story originally appeared on KRCR-TV. To read more of the article click here.
Throughout the pandemic, during wildfires, and in just general hard times, the Boys & Girls Club of the North Valley (BGCNV) has been there for the Northstate community. Now, one junk removal business hopes to pay those efforts back.
Owners of Junk King Gold Country, Greg and Patty Lymath, have dedicated the month of March to bringing awareness and funding to the nonprofit. Donations from a toy drive their business hosted in December were brought to the club on Wall Street in 2020.
This visit sparked their interest in the club after discovering the vast amounts of aid they provide to Northstate communities, including supplying struggling families impacted by recent fires with homes and household items.
"Originally, we didn't really know that much about them… heard of them, but didn't know how much they do and that was what really impressed us," says Greg.
After a site tour, the couple says they were compelled to find a way to support the organization in their mission: "to inspire and enable all young people to reach their full potential as responsible, productive and caring citizens."
Throughout the month, the couple has been donating repurposed furniture their business has acquired to the club. In turn, the nonprofit sends these pieces to the families living in these homes.
"A lot of families that get new homes, they don't have anything to put in those homes," says BGCNV community engagement director Alex Beehner. "With their extra help, in addition to this fundraising during March, we're going to be able to actually furnish homes for our families."
Thus far, the Lymaths say they have raised roughly $800 to eventually donate to the club. They're hoping this amount will reach $2,000 come their raffle event next Friday.
From 3:00p.m. to 7:00p.m. March 26, the couple will be at the Secret Trail Brewing Company raffling off items donated to them to help raise funds. The raffle includes the chance to win a diamond and gold bracelet from DeVon's Jewelers and gift certificates from local businesses such as Woodstock's Pizza, Dutch Bros Coffee and Gallaghers Plumbing, Heating, and Air Conditioning.
"The raffle is kind of a fun way to donate and you put money in, you get something back from it," says Peggy. We've already got quite a few in donations and we're going to match whatever that is."
More information about how to donate to the cause and next Friday's raffle can be found on Junk Yard Gold Country's website and BGCNV's website.
Back