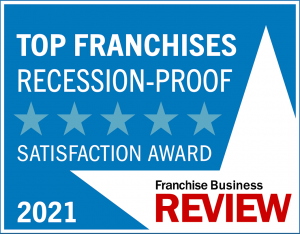 BURLINGAME, Calif. – Junk King was recently named a Top Franchise by Franchise Business Review in its report on the Top Recession-Proof Franchises for 2021. This is the 17th annual ranking of the 200 best franchise opportunities as rated by franchise owners.
"Our franchisees are the heart of our company, and without their support we wouldn't have been able to grow in the way we have over the past 15 years. It has been especially important to our team that they have our full support in growing their business and providing incomparable customer service to their communities this past year," said Michael Andreacchi, CEO of Junk King. "We're thrilled to be among many other leaders in the franchise industry on this list, and one of the few that are helping to minimize our environmental footprint on this world."
Franchise Business Review (FBR) provides the only rankings of franchises based solely on actual franchisee satisfaction and performance. FBR publishes its rankings of top franchises in its annual Guide to Today's Top Franchises, as well as in quarterly reports throughout the year that rank the top franchises in specific sectors.
Junk King was among over 300 franchise brands, representing more than 31,000 franchise owners, that participated in Franchise Business Review's research. Junk King's franchisees were surveyed on 33 bench-mark questions about their experience and satisfaction regarding critical areas of their franchise systems, including training & support, operations, franchisor/franchisee relations, and financial opportunity.
"From our perspective, franchisee satisfaction is one of the most important factors to consider before investing in any franchise opportunity," said Eric Stites, CEO of Franchise Business Review. "Franchising has historically performed well in a recession, and for people seeking to be their own boss, the recession-proof businesses we identified this year not only have outstanding satisfaction among their owners, but we feel they hold a strong advantage to outperform their competitors in the years ahead."
Junk King, the nation's top-rated junk removal and hauling company, is known for its professionalism emulated through its eco-friendly recycling, award-winning customer service, state-of-the-art technology systems and the clear indication it places on customer satisfaction. As the brand grows, it continues its efforts in making the world a better place for generations to come.
Visit FranchiseBusinessReview.com to see the full list of the Top 200 Franchises of 2021.
About Junk King
Junk King is a white collar business management franchise in a blue collar industry with company operations showing more than ten years of sustainable growth. The company is firmly entrenched as the second largest and fastest growing player in the still young junk removal industry. Junk King launched its franchise in October 2009 and has awarded more than 100 new franchises, including two Master licenses in Canada. Junk King has a flexible, easy to scale model with a quick start-up and few fixed costs. The company has also expanded into the dumpster sector, offering additional services and revenue streams to franchisees. To learn more about Junk King, please visit https://www.junk-king.com.
Back