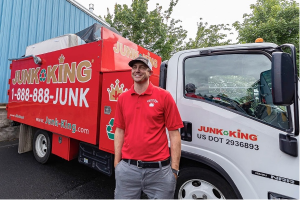 By Jacob Granneman | Story originally appeared on Clark County Today. To read more of the article click here.
Last time we heard from Jason Edge he was early into running his new Junk King franchise in Vancouver. COVID-19 cases were much higher, and business wasn't the best. Today, it's a different story.
The Junk King corporate team recently honored Edge and his Vancouver crew with their "Best New Franchise" Award for 2020. To Edge, it was a bit out of the blue, but very well received.
"To get through 2020 is an achievement, that's first and foremost," Edge said laughing. "We really didn't know what to expect, for many businesses right now, especially ones that deal with the public where you're going in and out of people's houses or just working with people directly face to face, it took a toll on the business. So to get there to get to the end of 2020 and get this award, it just proves the crew that I have here in Vancouver just did a great job."
Junk King is one of the nation's largest, eco-friendly junk removal companies and has been operating for over 15 years. Edge first began with the company in Oregon, before opening his own operation in Clark County.
Edge and his crew focus on reusing, recycling or repurposing as many of the items they remove as possible. Oftentimes they collect items that are barely used, or even nearly new. These are taken to their storage facility in Vancouver to later be donated to various organizations.
Edge has five crew members that were driving back and forth to Tigard each day to do this, but with the newer facility in Vancouver, it has cut down on fuel expense and trips counts, he said.
Recycled items are also stored at the warehouse before being taken to the appropriate facility. This is part of Junk King's Green Initiatives, and helps keep the flow of junk going to the most efficient and sensible locations per category.
"I've worked across many different industries, but none have been as rewarding as this one," Edge said. "I'm proud to provide a junk removal service that looks toward the future of our environment."
The corporate virtual conference where Edge received his award was themed "Essential," and reflected on the past year. The company also welcomed new franchisees and celebrated those who expanded their "reign" to become multi-unit owners.
At the end of the conference, the Junk King team recognized franchisees for several achievements. A total of 19 awards were given to locations in 14 categories for their work over the past year. The Junk King home office completed comprehensive assessments prior to deciding who would win the prestigious "Best New Franchise." Edge won the award due to his accomplishments in the category.
"It brings me immense pride to see the extensive amount of progress Junk King has made since we started in 2005. Our franchisees and our corporate team faced unimaginable challenges in the past year," Michael Andreacchi, CEO and co-founder of Junk King, said in a release. "Jason is well deserving of this award as he exemplifies what Junk King stands for. We applaud their accomplishments and look forward to another successful year."
Edge also explained how Junk King sometimes has the rare opportunity to reunite history across the nation.
On one recent project, the crew was helping a relative of someone who has passed away clean out their home. Among the memory albums and collections they discovered a 100-year-old collection of photographs from a university in the midwest.
"I'm like, 'we can't throw this out, somebody spent years with all these old black and white photos,'" Edge said. "And so I searched to find them and they said, 'Please send it to us!' So we're able to kind of give that back to somebody, and it's just little things like that."
Edge has also found original memorabilia from the WinterHawks, and many, many eclectic items that have been repurposed to everything from doors becoming tables to barrels becoming yard decor.
"If you don't know how to get rid of something, give us a call, we'll give you a free estimate," he said. "We really believe in that and we'll help you find ways to get rid of it in the best and greatest way possible."
To learn more about Junk King of Vancouver, you can visit them online at https://www.junk-king.com/locations/vancouver.
Back