This Veterans Day, Junk King is committed to honoring and supporting our veterans, not just on this special day, but every day of the year.
Our commitment to veterans extends beyond words – it reflects in our actions. We know transitioning from military service to civilian life can be both challenging and rewarding, and Junk King makes this transition as simple as possible while remaining an advantageous business move for veterans who looking for opportunities within the service industry.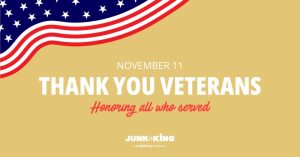 One of the ways we show our support is through an exclusive franchise fee discount, aimed to make business ownership more accessible by reducing some of the financial barriers. Through our affiliation with VetFran, a 10% franchise fee discount is our way of enabling veterans to step into business ownership with a strong foundation – just as they've done in their military service.
Every franchisee, especially our veteran franchisees, receives the best training and support possible at Junk King, but out commitment doesn't end there. We provide ongoing support, guidance and mentorship to empower veterans in effectively serving their communities.
Our Values Align
Joining Junk King enables veterans to extend their service, this time in their local communities by delivering an essential service that benefits customers and contributes to a cleaner, greener future, embodying the spirit of service in a whole new and impactful way.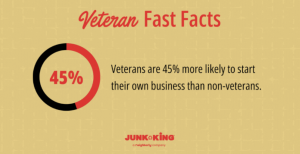 Giving Back with Military Makeover
Junk King's commitment to veterans goes beyond business operations. We actively engage in initiatives supporting veterans in their daily lives. One way we put our values into action is our partnership with Military Makeover, dedicated to transforming the homes and lives of military families.
Junk King has had the privilege of contributing to these renovations, playing a role in transforming living spaces and providing our services to these deserving families. Our collaboration with Military Makeover is a testament to making a positive impact in the lives of veterans and their families. Tune in to catch us on the new season starting this week!
Join Us in Making a Difference
As we celebrate Veterans Day and honor the sacrifices of our service members, we invite veterans to consider the Junk King franchise opportunity. Join us in our mission to protect and improve our world, one junk haul at a time.
If you want to expand your portfolio with a brand that supports our veterans and prioritizes franchisee success, reach out to Junk King today!
Back