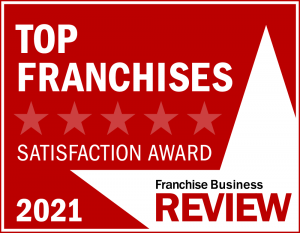 BURLINGAME, Calif. – Junk King was recently named a Top Franchise for 2021 by Franchise Business Review. This is the 16th annual ranking of the 200 best franchise opportunities as rated by franchise business owners.
"Our franchisees are one of the many reasons we have been able to grow in the numbers that we have over the past 15 years. Ensuring they have the support they need from our team in order to grow their own business, provide exceptional customer service and help minimize their community's environmental footprint is always a priority for us," said Michael Andreacchi, CEO of Junk King. "We're thrilled to be among many other leaders in the franchise industry on this list."
Franchise Business Review, a franchise market research firm that performs independent surveys of franchisee satisfaction, provides the only rankings and awards for franchise companies based solely on actual franchisee satisfaction and performance. Franchise Business Review publishes its rankings of the top 200 franchises in its annual Guide to Today's Top Franchises.
Junk King was among over 300 franchise brands, representing more than 28,000 franchise owners, that participated in Franchise Business Review's research. Junk King's franchisees were surveyed on 33 benchmark questions about their experience and satisfaction regarding critical areas of their franchise systems, including training & support, operations, franchisor/franchisee relations, and financial opportunity.
The brand earned a 71.1 Franchisee Satisfaction Index (FSI) score, a three-point increase from the previous year. Franchisees also rated Junk King highly on categories such as training & support, leadership, core values, financial opportunity and general satisfaction.
"There are thousands of successful franchise companies operating in North America, but many of those companies do not offer a solid investment opportunity for the actual franchise owners," said Eric Stites, CEO of Franchise Business Review. "As an independent research firm, we rate the franchise companies in the marketplace today and identify those with the highest levels of satisfaction and performance among their franchisees in order to educate potential buyers and help them choose which franchise to invest in. The companies on this year's list are the top performing brands in the key areas critical to their franchisees' success."
Junk King, the nation's top-rated junk removal and hauling company, is known for its professionalism emulated through its eco-friendly recycling, award-winning customer service, state-of-the-art technology systems and the clear indication it places on customer satisfaction. As the brand grows, it continues its efforts in making the world a better place for generations to come.
To view the entire Top Franchise for 2021 list, visit https://franchisebusinessreview.com/page/top-franchises/.
Individuals interested in franchising with Junk King can learn more about the franchise opportunity by visiting https://franchising.junk-king.com/.
About Junk King
Junk King is a white collar business management franchise in a blue collar industry with company operations showing more than ten years of sustainable growth. The company is firmly entrenched as the second largest and fastest growing player in the still young junk removal industry. Junk King launched its franchise in October 2009 and has awarded more than 100 new franchises, including two Master licenses in Canada. Junk King has a flexible, easy to scale model with a quick start-up and few fixed costs. The company has also expanded into the dumpster sector, offering additional services and revenue streams to franchisees. To learn more about Junk King, please visit https://www.junk-king.com.
Back