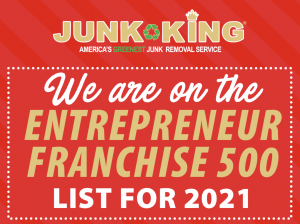 BURLINGAME, Calif. – Junk King announced today it has been named to Entrepreneur magazine's Franchise 500® list, considered the world's first, best and most comprehensive franchise ranking.
The recognition received by Junk King highlights the successful expansion made by the company in 2020. As an essential business, the brand was able to add new units to its system last year bringing it to a total of 125 locations in communities across the United States and Canada. Six locations also joined the million-dollar club in 2020 showcasing the resiliency of Junk King's model.
"Junk King's ranking on this list is a testimony to the hard work of our corporate team and franchisees, and what we've been able to achieve together in the past year," said Michael Andreacchi, co-founder and CEO of Junk King. "It's a privilege to be included on Entrepreneur's Franchise 500 list. The significance of this recognition has left a mark on the entire system and we're already well on our way to starting this year off strong."
The key factors that go into the evaluation include costs and fees, size and growth, support, brand strength, and financial strength and stability. Each franchise is given a cumulative score based on an analysis of more than 150 data points, and the 500 franchises with the highest cumulative scores become the Franchise 500® in ranking order.
"2020 was a challenging year for everyone, but it was also a year of unusual opportunity," says Jason Feifer, Entrepreneur editor-in-chief. "Franchises were able to be nimble and innovative, serving the needs of franchisees and customers in ways that will resonate for many years to come. We believe that, when we eventually look back on this time, we'll see it as a moment when many brands defined themselves for the future."
Junk King, the nation's top-rated junk removal and hauling company, is known for its professionalism emulated through its eco-friendly recycling, state-of-the-art technology systems and the clear indication it places on customer satisfaction. As the brand grows, it continues its efforts in making the world a better place for generations to come.
Entrepreneurially spirited individuals interested in owning a Junk King franchise should have the ability to invest from $89,850 to $175,440 on average, which includes working capital and a typical franchise fee of between $54,000 and $78,000. Plus, Junk King is a proud partner of the VetFran program. Approved candidates receive 10% off of the total franchise fee. Ideal franchise candidates have a passion for giving back to the community and are dedicated to providing exemplary customer service.
Over its 42 years in existence, the Franchise 500® has become both a dominant competitive measure for franchisors and a primary research tool for potential franchisees. Junk King's position on the ranking is a testament to its strength as a franchise opportunity.
To view Junk King in the full ranking, visit www.entrepreneur.com/franchise500. Results can also be seen in the January/February 2020 issue of Entrepreneur, available on newsstands January 26th.
To learn more about Junk King, visit: https://www.junk-king.com.
For more information about available franchise opportunities, visit: https://franchising.junk-king.com/.
About Junk King
Junk King is a white collar business management franchise in a blue collar industry with company operations showing more than 15 years of sustainable growth. The company is firmly entrenched as the second largest and fastest growing player in the junk removal industry. Junk King launched its franchise in October 2009 and has awarded more than 100 new franchises, including two Master licenses in Canada. Junk King has a flexible, easy to scale model with a quick start-up and few fixed costs. The company has also expanded into the dumpster sector, offering additional services and revenue streams to franchisees. To learn more about Junk King, please visit https://www.junk-king.com.
About Entrepreneur Media Inc.
For 42 years, Entrepreneur Media Inc. has been serving the entrepreneurial community providing comprehensive coverage of business and personal success through original content and events. Entrepreneur magazine, Entrepreneur.com, and publishing imprint Entrepreneur Press provide solutions, information, inspiration and education read by millions of entrepreneurs and small business owners worldwide.
To learn more, visit entrepreneur.com.
Back