At Junk King, we understand that not every job requires a large dumpster. With the launch of the JK Dumpster Bag, we're ecstatic to offer a professional and efficient solution for our customers, especially those tackling smaller projects.
Our dumpster bags are designed to revolutionize everyday junk removal. These durable, eco-friendly bags allow customers to conveniently load and fill the bags at their own pace without the need for excessive equipment. Everything from household materials, to yard waste and construction debris can be loaded up! Once the bag is ready for collection, our professional teams will promptly retrieve and dispose of its contents responsibly.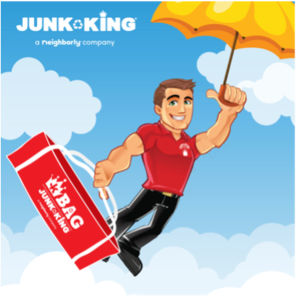 Whether you're decluttering a few rooms in your home or place of work, in the middle of a large yard or landscaping project, or even a small renovation job that results in far more debris than you can fit inside your regular trash bins, the JK Dumpster Bag is an innovative solution for eliminating unwanted junk and reclaiming valuable space.
The JK Dumpster Bag undoubtedly benefits our customers, but why are they a game-changer for our franchisees? Here are a few key benefits:
Additional Revenue Stream
Incorporating dumpster bags into your range of services creates an opportunity to increase your earnings and solidify your franchise's financial growth. By diversifying your offerings, you can tap into a broader market and maximize your return on investment.
Dumpster bags extend your service capabilities, enabling you to cater to a wider range of customer needs. By accommodating different types of jobs and attracting a diverse customer base, operators position their franchise as the community's go-to solution for junk removal.
Dumpster bags streamline the junk removal process, optimizing space, efficiency, and productivity. The bags simplify scheduling and resource allocation, enabling you to serve more customers in less time. This streamlined approach boosts profitability and enhances customer satisfaction.
The introduction of the JK Dumpster Bag represents a significant growth opportunity for our franchise network, and aligns perfectly with our commitment to innovation, exceptional service, and environmental sustainability. By incorporating dumpster bags into your services, you'll position your franchise as the reigning champion of junk removal in your territory!
Back